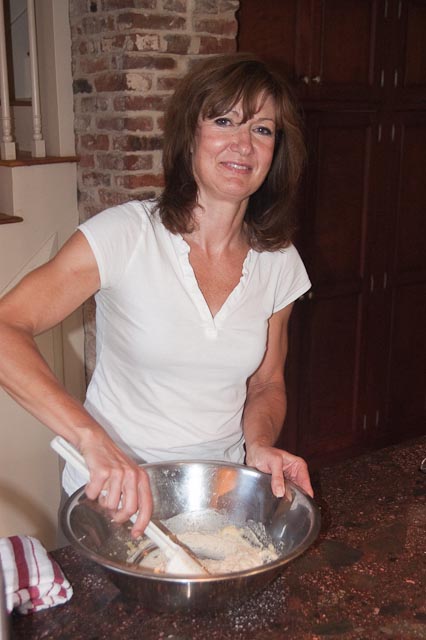 Kathy Bechtel is an escapee of the 9 to 5 routine. With a Master's degree in electrical engineering and an MBA, she worked for close to 20 years as a telecommunications engineer and technical marketing guru, first for Bell Labs, and then for a small but successful start-up in the semiconductor industry. Strict 9 to 5 schedule, too many meetings, lots of travel and stress. She left the business entirely in 2002, and pursued a long held interest in cooking – so she went to culinary school. A year later, she graduated first in her class. Since then, she have dabbled in catering, personal chef, and a variety of other outlets for her culinary skills, but hadn't found the right fit. "I did strike up a relationship with a well-known chef and restaurateur, Jody Adams of Rialto. I have (and continue to) assist her in private dinners, charitable events, and have traveled with her many times, most often to Italy, but also to Paris, NYC, and Washington DC".
It has always been clear to Kathy that the restaurant business was not for her: it would be back into a very stressful, highly scheduled environment. In addition to cooking, she was also quite a fitness and outdoor activity buff; skiing, hiking, biking, golf, yoga, weight training – She needed her daily fix, and couldn't see how that worked with a 12 hour day in a restaurant.
Recently, the perfect opportunity arose. During her travels with Jody, she travelled to Italy with her on a couple of bike trips with a company that is now no longer in business. "I met a freelance guide who led the trips, and earlier this year we elected to join forces to offer very unique active vacations in Northern Italy". He takes care of the recreational side – be it a biking trip, hiking, skiing, or walking. He is also a 9 to 5 escapee, an ex-army ranger who headed up the recreational programming for Europe for the US Army out of Vicenza Italy for 15 years. He now wanted to offer private active adventures that could be designed around the specific fitness goals, cultural interests and desired leisure activities of our clients. He needed a partner who could bring a strong food and wine background to his programs, to add cooking classes, wine tastings, and explorations of regional Italian foods to the tours; a partner who could market the tours in the US, and a partner who could assist with the fitness side – who could ski, bike, hike, in Italy, several times a year. Her perfect new job!
Kathy now has an outlet for both her culinary explorations and her need for an active lifestyle. They have had several very successful bike tours this past summer, and are working on additional bike trips, hiking trips, and ski trips for the next season.
http://www.italiaoutdoorsfoodandwine.com